Interested in building your career with Fisher German? We have a huge amount to offer you:
A varied and engaging short-term Insight programme for students on a non-cognate degree who wish to know more about surveying and the work that we do
A highly competitive starting salary
Being open to students from all subjects, with full sponsorship to complete a relevant part-time Masters if you join us from a non-sector specific degree
Sponsorship, study leave and amazing internal support to achieve your chartered qualifications
A simple, quick and person-centric application and interview process
Real client-facing work, roles and responsibilities from day one
Long term career progression opportunities to Partnership
A range of paid one-year placement and paid summer internship opportunities
A community, social and development focussed environment where you will be supported to do your best and build your career
Graduate Brochure
To find out more about our business, the opportunities we offer, the locations/roles we are recruiting for and where a career with Fisher German can take you, you can also take a look at our graduate brochure: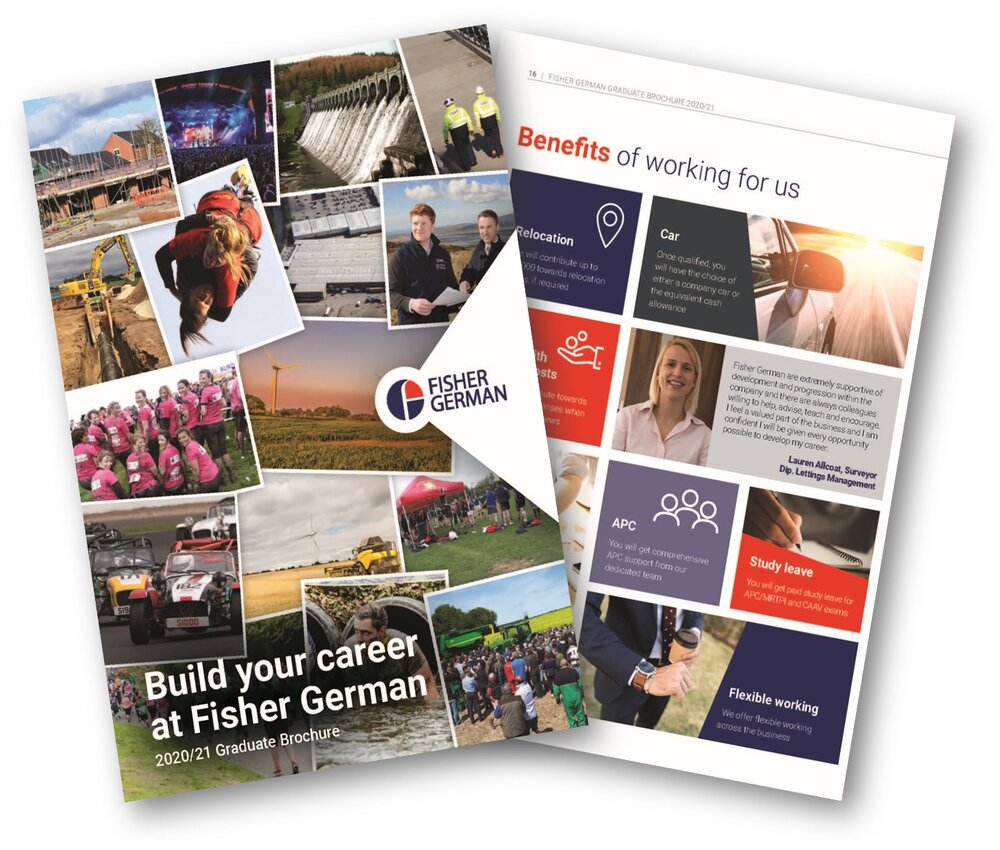 The nature of the work means you will often be out of the office in all weathers, travelling to and working on sites across the country (a driving license and your own transport, or willingness to have it by the time you start, is critical to get to sites easily). It also means working outside of the normal 9-5 when the role requires it. We want to be up front about these things so that you can really make sure we are the right environment for you to thrive.
Our application window for the graduate scheme commencing 2021 has now closed.
Applications for 2022 will open in September 2021.
Placement Year
At Fisher German we understand the importance of the experience you gain whilst on your 12-month industry placement. Your placement year forms an integral part of your Degree studies and the experience gained during that period shapes your understanding of the profession and influences your future career direction.
From Rural to Commercial and Utilities & Infrastructure, we offer a range of opportunities in varied roles where no two days are the same. In addition, you will benefit from the same excellent training and amazing support as our graduates.
We welcome students from both cognate and more generic degrees. Submit your combined CV and cover letter via this website to be considered.
Our application window for the placement year scheme commencing 2021 has now closed. Applications for 2022 will open in September 2021.
Summer placements
Want to get hands-on surveying experience and a feel for what it's like to work at Fisher German? We offer paid summer placements, for up to 12 weeks, to students in their first or second year at University or on a postgraduate course, whatever the degree. We have opportunities across our different offices and sectors. Apply online or via email - access the brochure below for more details: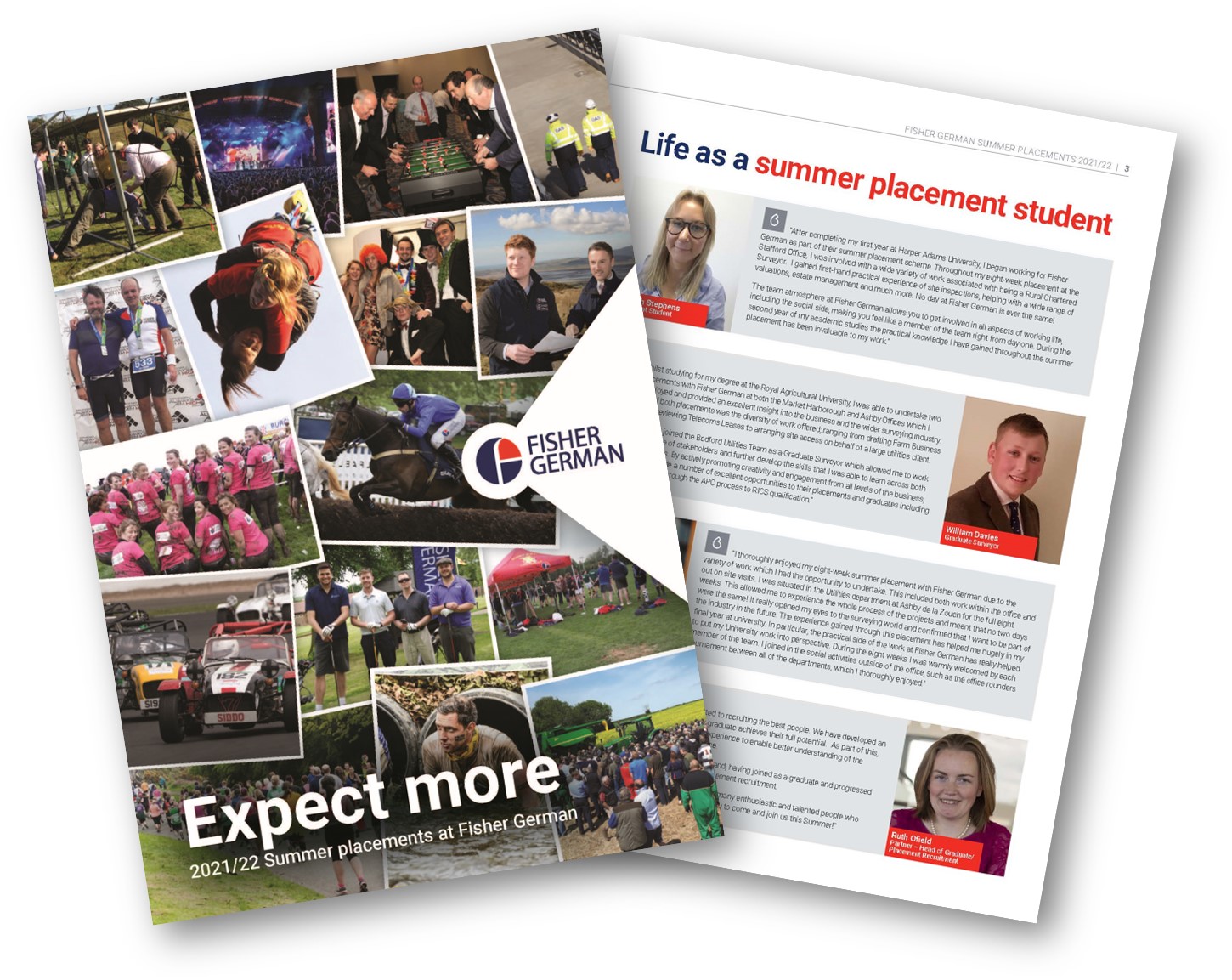 Deadline for applications: 31 March 2021 at 5pm.
Insight Programme
Interested in a career in surveying but not sure what it entails? Immerse yourself into the industry and enrich your CV through Fisher German's Insight programme. Primarily aimed at non-cognate students, this fully virtual and highly engaging 2-week programme includes talks and presentations, personal development training, networking as well as practical project work in each of our sectors.
To apply, submit your CV and cover letter via the form on this page, explaining clearly and in no more than 500 words why you wish to take part in the programme.
2021 dates: 6 – 15 April 2021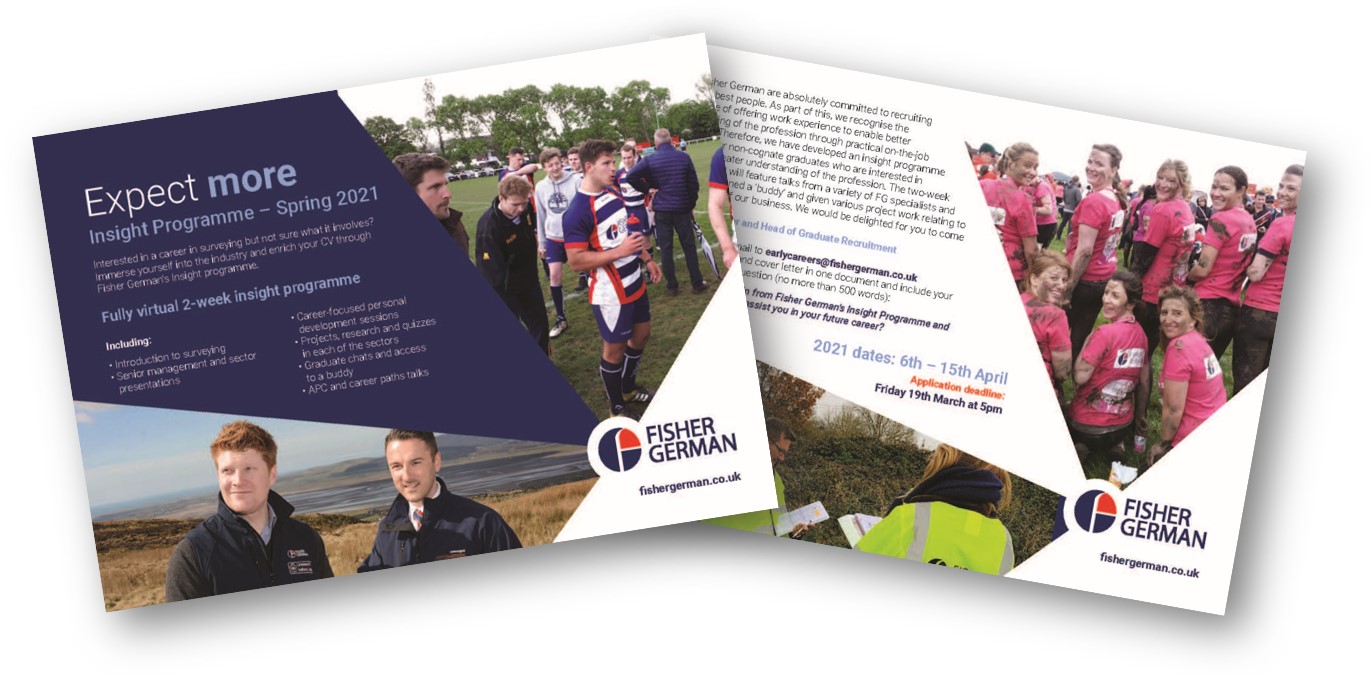 Applications deadline: Friday 19 March at 5pm.