In these strange times we find ourselves in, Fisher German's Geographic Information System (GIS) team is busier than ever, supporting clients with technological solutions that have continued even through the national lockdown periods. On World GIS Day, the team share some of their recent project successes that have taken place this year.
World GIS Day takes place on 18 November and is an opportunity to celebrate GIS technology and share examples of the practical applications of GIS that are making a different in society.
Our GIS team is made up of dedicated experts who provide geospatial services to our in-house teams and directly to our clients, including analysis, background data, surveys and plans. Collectively, our team has combined experience of more than 30 years, from rural estate mapping and land referencing, through to data cleansing, task automation, locating historic easements and supporting large utility schemes.
Here are some practical applications of GIS services in the real world, that we have completed on behalf of clients this year:
Design and specification of a new landowner database for a major oil pipeline client.
Phase 1 completed for the reinstatement/rebuilding cost analysis for 250 significant buildings across the UK. This used bespoke GIS processes to automate the area calculations required for input into a model designed internally for calculation of the correct values. Phase 2 now in progress for a portfolio of circa 2500 of these buildings.
Multiple valuation reports run through our bespoke, automated valuations reporting tool.
GIS support work for the lands team working towards the recently granted Development Consent Order (DCO) for the Southampton to London Pipeline project.
GPS/ GNSS surveys to 2cm accuracy – carried out every week to support a variety of common queries including title registrations, boundary disputes and sales of land.
Land referencing GIS work for almost 200 projects* on behalf of a major water client.
19,000 automated letters and plan packs sent out on behalf of a major utility client.
Ownership data cleansing, parcelling and transfer to a new database completed on behalf of a large pipeline client, with ongoing GIS maintenance work.
Actioned 2,459 requests for GIS work to date this year, an increase of more than 1,000 compared to the same period three years ago.
See below to find out more about our land referencing processes.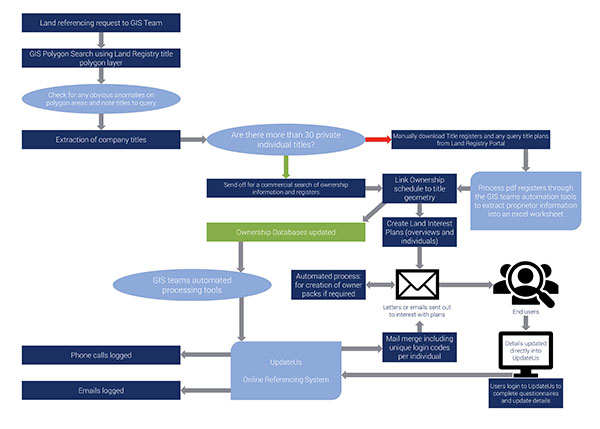 If you think you might benefit from similar services utilising our wide project experience, don't hesitate to get in touch with the team. You can find out more about our GIS team here.